Upcoming features
Some of the upcoming features, in a new format. The changelog can be difficult to read, over the next few days we'll be posting new features of the game in a friendly format.
1. Tractor beams of the Galactic Colossus
These never really did function! But soon, they will! We're working on it on Github where you can preview the working behavior via the attached video.
2. Tactical missile defenses
They've always felt a bit underwhelming - and that is because they were. They typically overkill their targets, causing them to be unreliable at best. We're working on fixing this on Github, where you can preview the working behavior via the attached video. Finally A tactical missile defense can properly counter a tactical missile launcher that fires at the same rate and takes only one strike to take down.

3. Game results
A brand new implementation on how the game results are being tracked is available on FAF Develop! Now that we have all the files in the repository we can finally properly investigate what is going on. And with that investigation an alternative system of determining the game results has been implemented. This system has already been live for about a week - as the date of merge on the pull request suggests!
I'm quite confident that this:
Gets rid of the 'draw bug' once and for all
Reduces the amount of 'unknown results' to practically 0
The previous implementation was a fix over a fix, over a fix, over a ... bug. While they didn't manage to tackle the core issue that showed up all over the base code, and apparently also in the game results computation. As a result, one army was sometimes not considered defeated until the next tick - the source of the draw bug. It is quite technical, I won't dive further and keep it brief.
Note that when you draw you can still lose or gain rating: the idea is that if you draw you should be of equal rating, and therefore the players 'move towards each other' rating-wise.
4. Projectiles that hit but miss
There are a lot of situations where projectiles hit (read: collide) with a unit, but they do not deal damage to that unit. This is a consequence to how the engine works: the collisions are computed at tick n, the consequences of the collisions are computed at tick n + 1. One tick later, the unit may have moved so far away that it can miss area damage, especially when the radius of the area damage is low. The full fix, along with videos can be found on Github.
To describe it visually:


A scout at maximum velocity, red marks the old damage location where as blue marks the new damage location. The collision boxes are also rendered (in blue), clearly showing that the old damage location is no longer in reach of the spy plane
Note that this primary impacts two type of situations:
Very fast units (> 15 maximum movement speed, usually planes)
Projectiles with a very small damage radius (< 0.5, the average land units moves at a speed of 5)
5. Range rings and performance
With thanks to @RutreD and @Kionx (who's not on the forums) another engine patch has been made and is available on FAF Develop! This patch improves the performance of range rings, with up to 20% to 50% more frame rate than before when rendering plain vision and range rings!
As an example, while having used the following console commands:
ShowStats
sc_VerticalSync 0
sc_FrameTimeClamp 0
You can reproduce these results yourself - I highly encourage you to do so and report back
!

Current FAF game type, looking at 500 asf: ~150 fps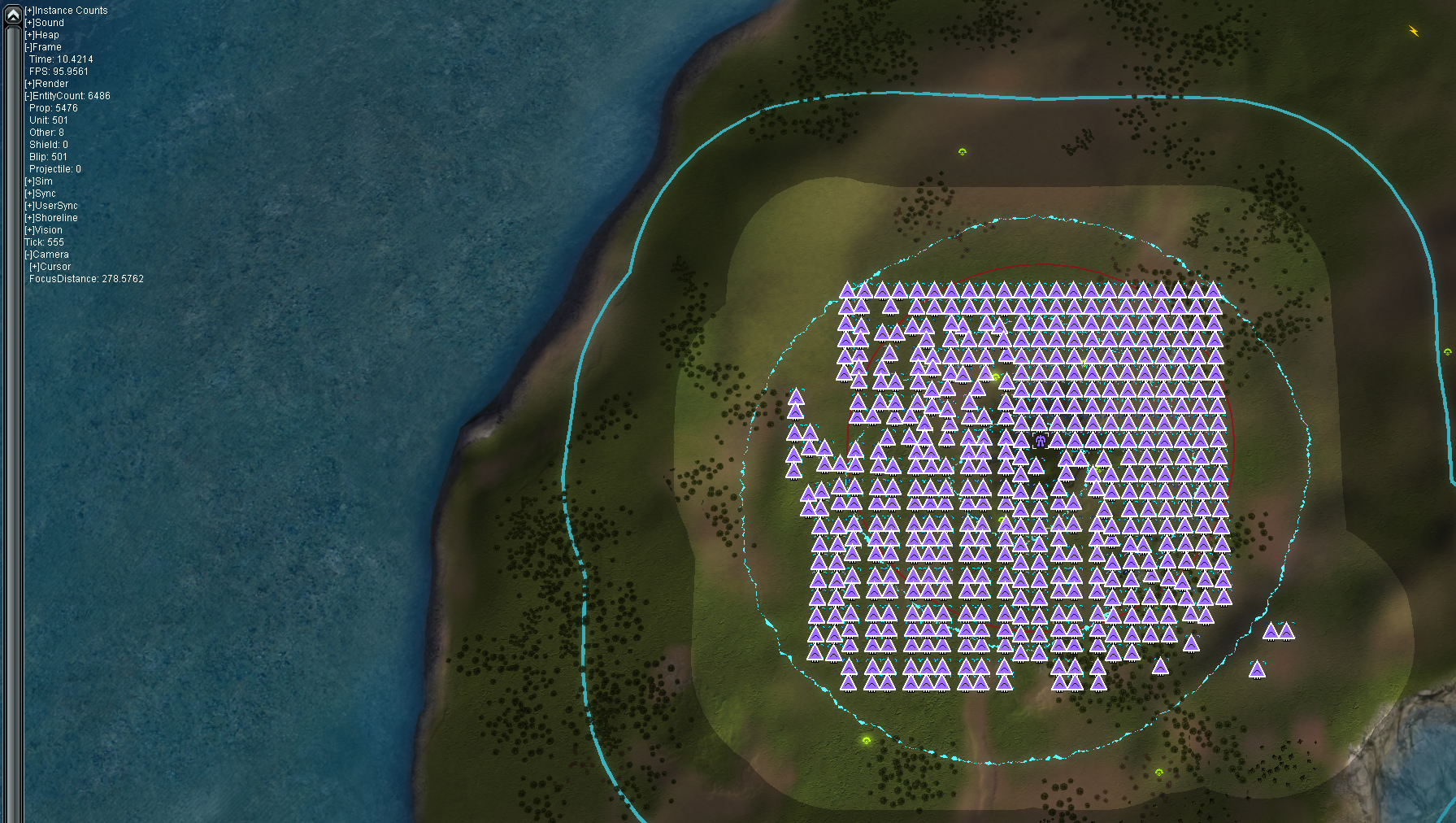 Current FAF Game type, 500 selected asf: ~100 fps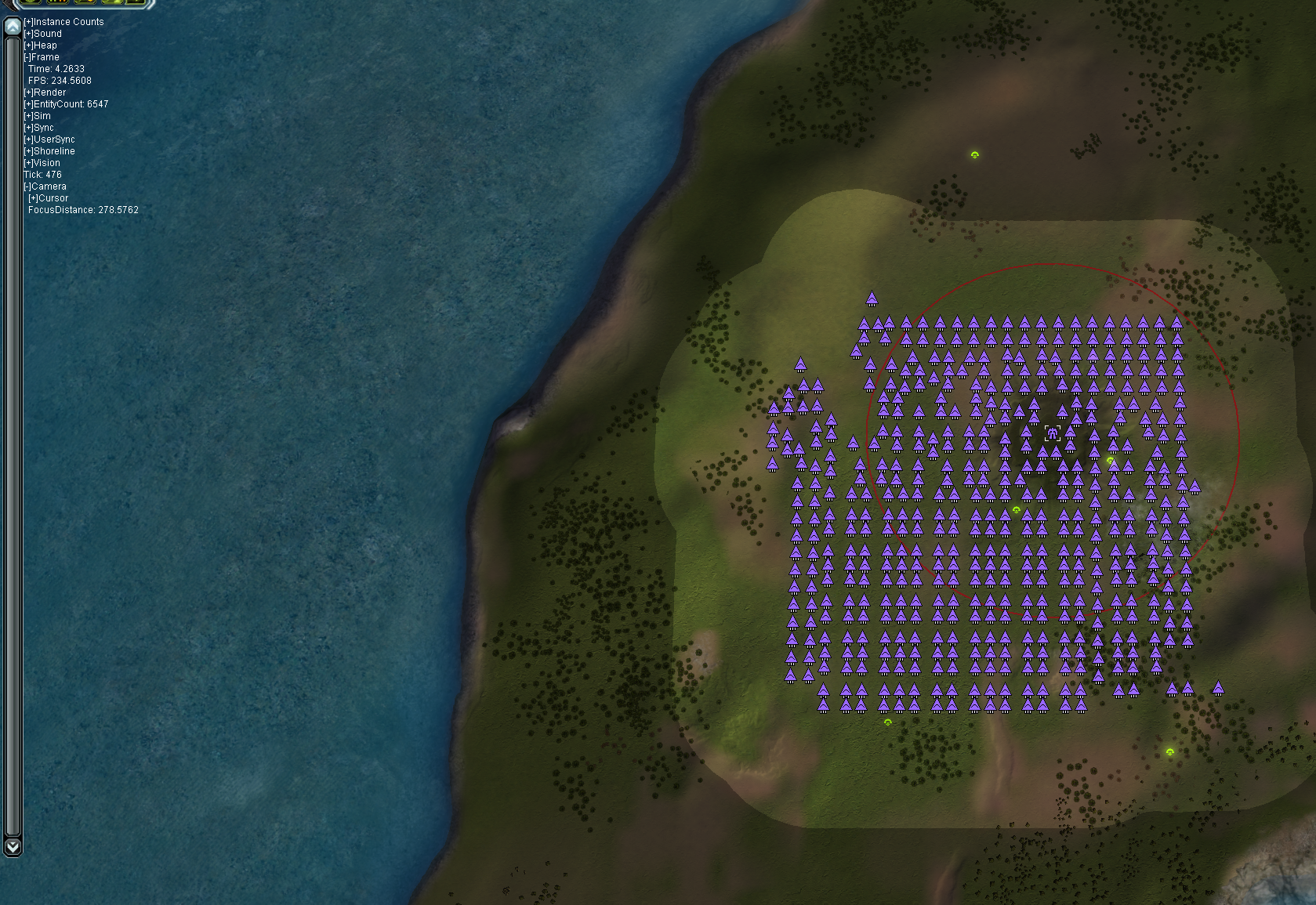 Current FAF Develop game type, looking at 500 asf: ~250 fps

Current FAF Develop game type, selected 500 asf: ~150 fps
6. And a lot more - see the patch notes below!