Post #4: Player Registration
This is an Open Tournament.
Players register as potential Captains or draftee's.
Teams for this tournament will work through a Captain Pick process.
Players will be seeded by their highest rating, regardless of global or ladder.
The highest 12 rated players will become Captains.
A Captain is given the right to draft "pick" a team,
out of the registered players "draft pool" to play with during the tournament.
The Captains themselves will also be seeded according to rating.
Meaning the 12th Captain will have the lowest seed of all 12 Captains.
However, this 12th Captain will have the right to -
draft the 1st player during the Team Selection stage.
The drafts then goes up sequentially from 11th Capt. to the 1st Captain.
This procedure is repeated again for the 2nd player, from 12th Capt. to 1st Capt.
.
The Following players have registered: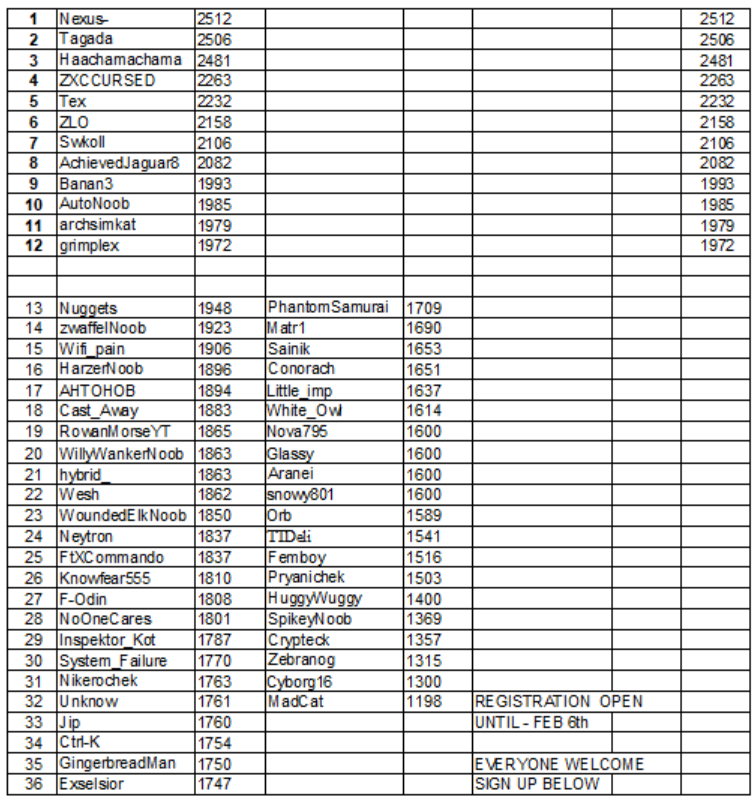 Captains ratings are taken from the day after the LoTS finals.
(evening of Dec 20th, see screen shot below)
Players registering for this tournament should find
the higher of their 2 ratings in below screenshot, and enter it on this thread.
(If your rating has gone up, you may submit the new higher rating for the draft,
but new rating does not effect top 12 Captain seeding)