Event: "Rainbow Cup III" ~ 3 v 3
Dates: Jan 30, Feb 6, Feb 12 and Feb 13 at 1600 UTC
-----$1,200 Prize Pool----
1st Place = $660 + Unique Avatar
2nd Place = $360
3rd Place = $180
This is a 3 v 3 Double Elimination Tournament.
Similar to the Original "Rainbow Cup I"
Where Each side Must wear team colors.
Except - This year it's a 3 v 3 and
AI is added as: Active Civilians.
Directions:
1 - Color Up,
2 -Team 1: Chooses a faction for any open AI position
3 -Team 2: Chooses a faction for the remaining open AI position
4 -Launch
Here is a photo of the-
Team Approved Colors:
Reds vs Blues, or Warm vs Cool.
Red team will be the upper bracket team and the favorite.
Blue team will be the lower bracket team and the underdog.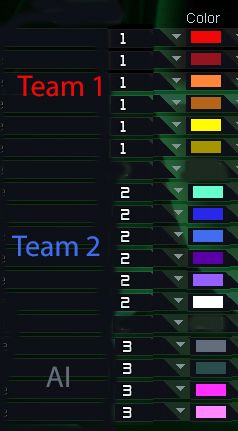 .
Tournament specific Mods, Options and Rules:
4 MODS: **
1- Simspeed++,
2- AI-Swarm,
3- AI-Uveso,
4- RNGAI
4 OPTIONS:*
1- Share Conditions: Full Share
2- AI Omni Settings: Off
3- AI Map Marker Generator: Autogenerate Always
4-Additional map specific options
are highlighted by - Yellow Dots on each Game Map.
2 RULES:
1- Team #1 (top bracket) must be in "Warm" colors,
and Team #2 (bottom bracket) must be in "Cool" colors,
If a player is Not in an "Approved Team color", -
any player on the opposing team,
that catches him within the first 5 minutes can -
hit the "Pause" button and force a Re-Host of game.
2- Teams play until one human team side is defeated,
by either the opposing human team or the AI,
the remaining team is the winner of that game.
**Special Thanks to Azraeel, Uveso, relentless, muchstuff, Sprouto, !MarLo and
their teams for developing the AI mods that
made this tournament possible, and practicing so much better.