THE PROBLEMS WITH THE UEF - Part 5 (The Bulwark)
---
Hi everyone. Thanks for sticking with me throughout these posts.
Today, we will tackle the Shield Boat. I would like for us to focus mainly on the shield itself and how it interacts with the environment, but I will also be offering a nerf / buff as well. The nerf / buff is more so of a secondary change. So, please keep this in mind. Thanks! Now let's get to it.
---
-Disclaimer-
These are just some problems I wanted to bring attention to. I am offering my own solutions to these problems, however, I am not a balance team member, nor do I have a large data pool to back up my suggestions; Hence, the balances will likely need some adjustment. There may also be some better ideas to fix these issues, out there - so I encourage you guys to suggest your own ideas as well.
---
-Navy-
Problem: The Bulwark (Shield Boat), detailed version:
The Bulwark is a strong support unit. Very strong if paired with almost any other navy unit, in fact. However, it comes with a drawback. I understand that the shield range is meant to be large to accommodate the navy underneath as well as to allow enemy units the opportunity to get underneath it and destroy the shield boat, but, the issue here is that the shield size is very misleading. To explain this, I will be using the following terms: 'Actual range', 'Visual Range', and 'Usable range'.
Below you will find an image showcasing each ring and its position.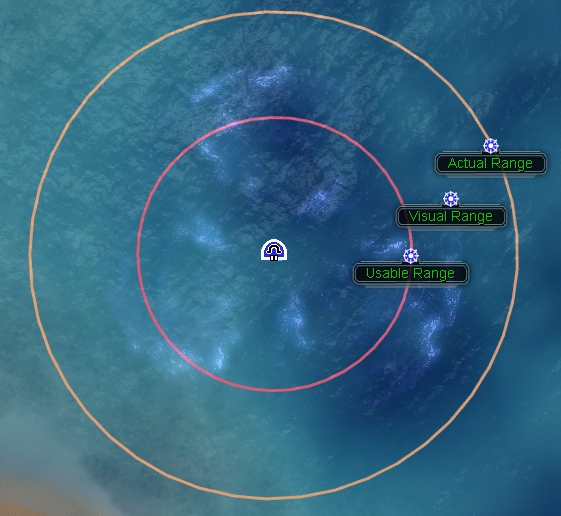 Image: Shows the range of the Bulwark's shield with custom terms.
When you select a Bulwark, you will notice the shield's range ring; the light-brown or cream-colored circle. I will be dubbing this term the Actual Range - A novice player may see that it extends a certain distance away from the unit and based on that range, may think that the shield would cover a unit up to this point - it does not.
If we zoom in to see the shield render, you will instead see that the shield hits the seafloor - Visual Range - before it reaches its maximum shield range. Again, a novice player may see the physical shield extend a certain distance away and would think that it would cover a unit near the edge of this marker - It does not cover surface ships, but it does extend past the surface down to the 'Actual Range'. Here it would offer some protection to subs.
Now for the 'Usable Range'. The shield size covers about 34 units (distance) away from the actual unit before it hits the surface. Up to the red ring's range is where any surface ship would be protected.
Instead of having a shield with a large diameter (currently it reaches up to 120 units (distance) away), it would have a smaller diameter to make the shield steeper at the edge to match its usable range.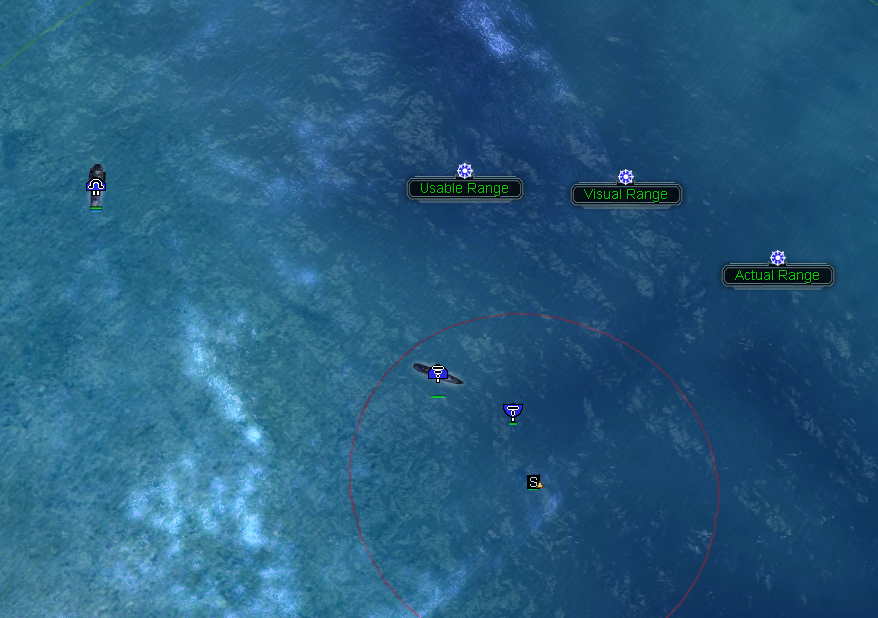 Image: Frigate is positioned so the Bulwark's shield covers the back half of it, Attack Submarine is in front of the Frigate but is still covered by the shield. Support ACU is further in front of the Attack Submarine on the seafloor yet is still covered by the shield
As you can see, the shield is quite misleading.
This shield is still a little large as it was exaggerated to showcase a point.
---
I will now like to show what I believe would be a more reasonable shield adjustment.

Image: Shows new shield range of Shieldboat.

Image: Shows a side view of the new shield adjustment. I apologize for the weird shield height, I am still new to modding;
This shield modification has a range of 88, which is in between its current surface range (34) and its maximum range (120). Here we can see that the shield is significantly steeper when it collides with the water surface and the seafloor. This will fix the issue with the current shield as this will no doubt clear up any confusion about where the Shield Boat can and cannot cover.
---
On a different note, the Shield Boat is quite the unit to face, especially in late navy engagements or in large numbers. I recommend that the Shield Boat's energy cost be adjusted to better represent the unit. It's a strong unit, after all. Increasing the energy cost by just 1,000 would mean only 2 more seconds from one T2 Pgen's power output. So it would not become too expensive - even in the early T2 navy stage.
Why increase the energy cost and not the mass cost? Well, In my experience, the mass cost is already where it needs to be, especially in relation to global T2 and T3 navy. It's already over half the cost of a destroyer. Increasing its energy cost just a tad, as well as increasing the build time to mirror will help to better balance the unit in early T2 all the way into late T3 navy engagements.
To help balance this small nerf, I suggest that it get some light torpedoes and torpedo defense. This would help the UEF in its infamous torpedo problem. Not so much so that it is strong or that it matches the Cooper (UEF T2 Torpedo Boat) but instead mirrors the Valiant (UEF T2 Destroyer). This would alleviate some pressure as the UEF has a difficult time dealing with subs of any sort unless you have a few Coopers to take on the task. This would help buy time in navy mixes without anti-sub capabilities.
---
Problem: (The Bulwark's Shield TL:DR)
The Bulwark's Shield is quite misleading and would be of benefit to be adjusted.
The unit has a strong influence in combat, so its energy cost should be adjusted to reflect that.
The unit is defenseless; some light torpedos and torpedo defense should be added in.
Proposed Solution:
Decrease shield range: 120 -> ~70 & adjust shield height, and size.
Add light torpedo defense to help fend off small attackers that get under its shield.
Increase energy cost: 13,000 -> 14,000
Increase build time: 5,200 -> 5,400
---
Thanks for your time!
Unfortunately, this change isn't implemented in the mod, just yet.
Again, I wanted to focus mainly on the shield rather than the changes to the unit itself.
I encourage you all to offer your own suggestions.
I appreciate the feedback.
To not bombard you guys with posts, I will now be posting on Fridays and Mondays.
Only about 5 more posts! Haha! Just a few structures to talk about and then the infamous Experimentals!
Sneak peek at part 6: The Kennel
For now, see you on the battlefield!
~ Stryker