Suggestions & Recommendations
Suggestions & Recommendations
---
Good afternoon.
I wanted to write this post to offer some upgrades in Quality-of-Life changes to the UI of FAF.
First (the most important one) - Showcase the range of teammates' intel structures and units.
Second - Allow reclaiming from a higher distance/zoom level.
Third - More disperse options.
Lastly - Add missing hotkeys for structures and upgrades.
---
Unable to see ally's intel structure and intel unit ranges.
In the current way of how FAF works, (if you have your intel ranges active), you will see your radar, omni, counterintel, and sonar ranges. However, you cannot see your teammates' intel rings.
This is detrimental to teamwork! If you do not own the intel structure or unit, then you cannot know exactly what is covered, risking runbys / teleports and more in areas you thought were covered by radar, omni, or sonar.
Then you wouldn't have to ask your teammate, guess or manually check where their range is.
This should be in the game by default.
---
Increase the zoom Level at which reclaim is possible.
When you go to reclaim, most of the time, you have to zoom in quite close to the battlefield to issue a reclaim order.
The option to manually reclaim from a certain zoom distance should be given to the player rather than being enforced by the game.
How it currently works in FAF:

Here, you can see how close we are to a rock, yet the player is still unable to reclaim it.
Below is how close you actually need to be to reclaim that rock.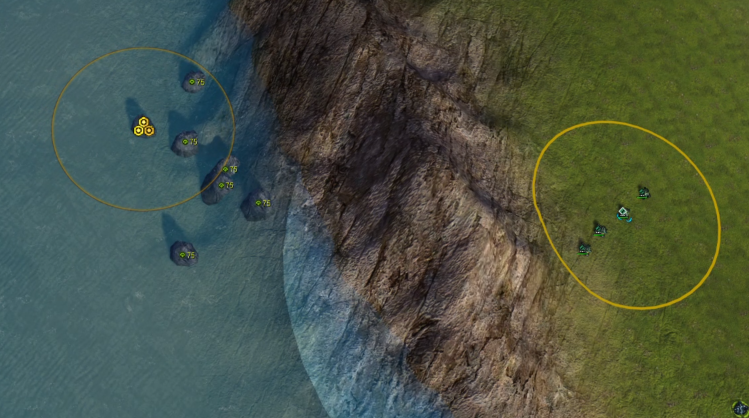 It is difficult to showcase through images, but a player needs to zoom in quite a bit more to reclaim.
The point is, you can clearly see the reclaim yet you cannot give the order which makes you lose time in needing to zoom in further. You don't want the UI to make the player feel as if they are able to give an order (The rock is clearly big enough and visible) when they cannot (but not reclaimable).
For small rocks, it is not an issue since you must zoom in to be precise. However, for larger rocks, it would be preferable if you could manually reclaim them from the same range that you could see them or any range the player prefers.
---
More Disperse Options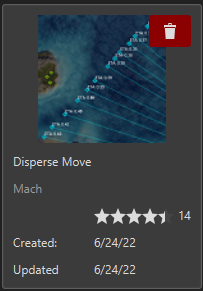 Currently, there is a mod that is amazing for scouting or moving multiple units to multiple different waypoints.
This mod can already allow the player to disperse assist engineers over multiple structures and units.
However, there is no disperse attack, disperse build, or disperse reclaim orders which could all be added into the base game.
The disperse attack order would allow finer control over attack orders such as multi-target bombing.
Currently, you can do it with the built-in option Spread Attack, however, it clutters the screen with multiple orders which scale exceptionally per unit and per order given which limits the way you can retarget or micro your attack orders.
This is also an issue for performance similar to how the mod "Spread Move" acted when giving large orders with multiple units. Possible crashes were likely.
How Spread Attack works: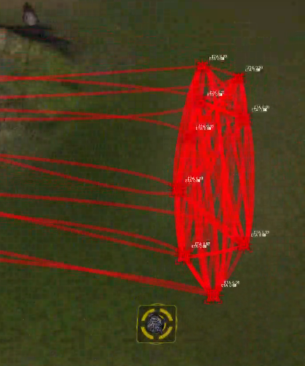 How Disperse Attack would work: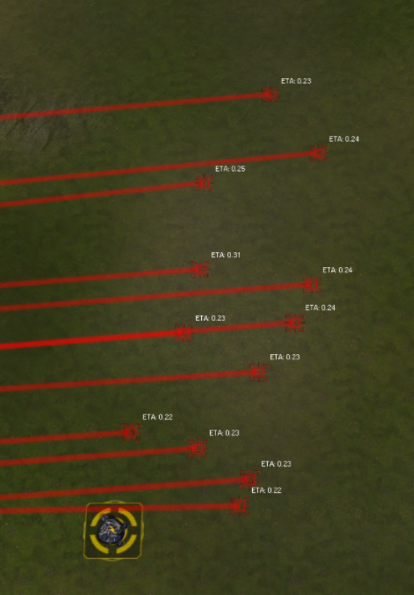 ---
It would be a great addition to the game to have a disperse build option, especially when a player dies in a no-share game and a player must rebuild the base.
How FAF currently works:

How Disperse Build would work: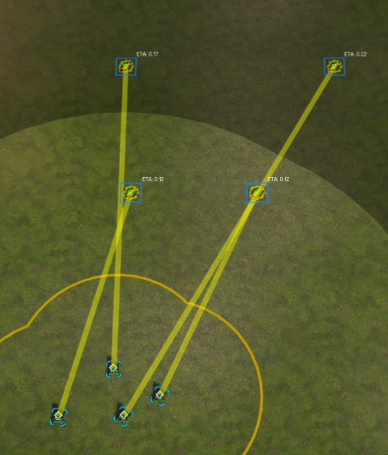 ---
Similar to how to disperse build, and disperse attack would work, disperse reclaim.
How it currently works:

How Disperse Reclaim would work: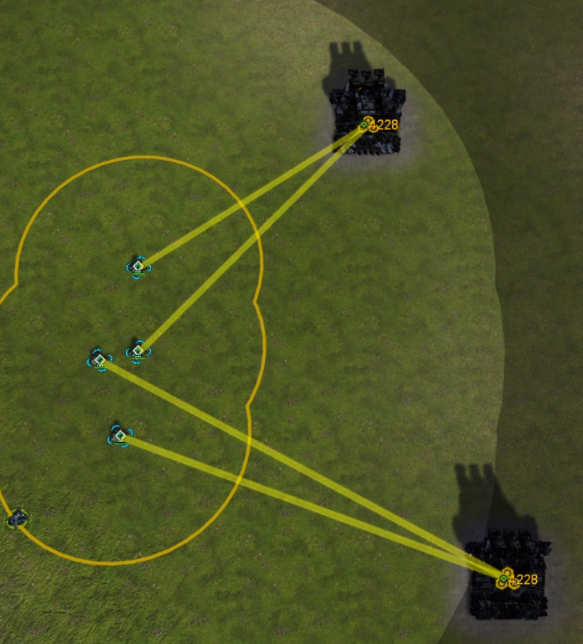 ---
Hotkeys
Some hotkeys are missing, more specifically for the Aeon Scry (Eye of Rhianne), and ACU upgrades.
For example, the most common upgrade, the Gun upgrade.
This would be a convenient change, so the player doesn't have to click multiple times, to get to the gun upgrade or to not mistake the left or right arm tabs.
There are hotkeys for literally, every other ability, yet, there is no Aeon Eye scry hotkey.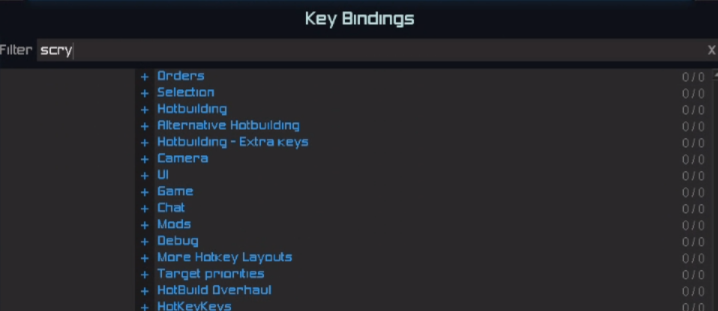 As you can see, there is no such hotkey.
---
Summary
Showcase team's intel ranges
Increase zoom level for reclaim as an option for the player
Disperse attack, build, reclaim
Hotkeys for Eye + Upgrades
---
All in all, just some quality of life changes.

---
~ Stryker
posted in Suggestions
•