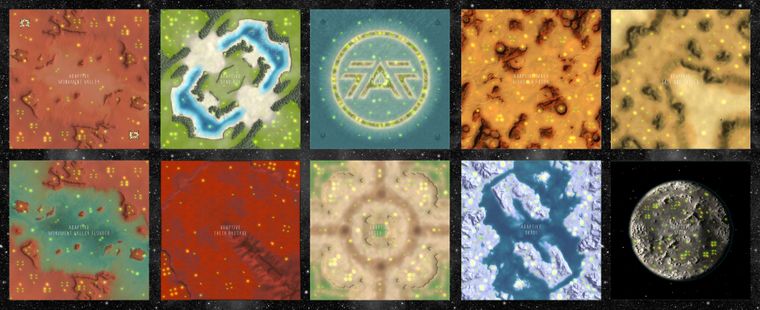 Good news everyone, more toys to play with.
The released maps are symmetrical (mirrored/rotated heightmap, marker, decals, props and units/structures). Most maps are Adaptive with optional features. AI marker are included as well. If you discover any issues, have improvement requests or other feedback, feel free to post it here.
The latest version of all released maps can be downloaded as map bundle.
gl hf
Note: You are not allowed to upload any of my content to the vault without my permission.
.
Released Maps
Community Maps & Projects
.
Adaptive Features
The following or similar features are available in my maps. To change the default adaptive settings access Game Options (game lobby) and scroll down to Advanced Options. If you like more information's about Adaptive Maps, look here or in the FAF-wiki.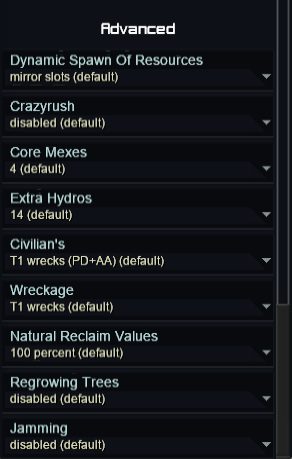 Dynamic Spawn Of Resources: mirror slots, used slots, no mirror = no resources, XvX setup
--> determine how resource marker will adapt to number and position of spawned players
Crazyrush: disabled, forward crazyrush mexes, crazyrush 1 core mex, crazyrush
--> building a mex on a chosen mass point, will always create new adjacent mass points to build upon
Core Mexes : 3 or 4
--> scale the amount of mexes in ACU build range at map start
Civilian Base: disabled, wreckage or operational
--> choose a civilian base of your liking
Civilian Defenses: disabled, wreckage or operational T1 - T2/T3
--> choose civilian defenses of your liking
Wreckage: disabled, T1 - T3/T4
--> scale the amount & tech of unit wrecks on the map
Natural Reclaim Values: 0-300%
--> change mass & energy values of rock & tree props
Jamming
--> add a seraphim jamming crystal to the map, to create false radar signals
Close - spawn mex
--> game lobby option that gives you the option to spawn the associated resources without playing on the spawn
.
Attention! The adaptive resources depend on the selected / occupied spawn in the lobby. In order for random spawn to work properly, the empty spawn points must be closed to avoid starting on a spot without resources...


.
Mapping Tools
GPG Map Editor
Scmap Mirror Tool (github) --> thx to b2ag
Photoshop, Gimp, Inkscape
World Machine
.