---
Matchmaker Team Update for TMM
Intro
As the 4v4 TMM is around the corner, the matchmaker team has been putting together a list of maps that will be used for the initial setup.
Now, keep in mind this tracker is not anywhere near completion and was put together and is undergoing testing to get at least some initial pools going right away. I can safely say that in current the matchmaker team is ready so once the feature IS released there will be no delay.
For reference, here is the update from BlackYPS on the up-and-coming release.
See the current list here:
What is left to do?
As you can see in the spreadsheet, there is a number of maps with comments and concerns. I am personally reaching out to authors and working with the Creative council to blanket update some maps to "- FAF versions" if the author's are no longer with the community, such as Thrawn13_ (Author of Stairways to Heaven).
In addition, we will be adding more maps - suggestions welcome - so there is plenty of content. Again, as it stands now there are enough maps to keep the TMM pools varied and interesting for at least a few months.
Community Feedback
If you think a map should make it into the pool, please post it up in the #matchmaker-submissions channel in the main FAF discord under the Mappers group: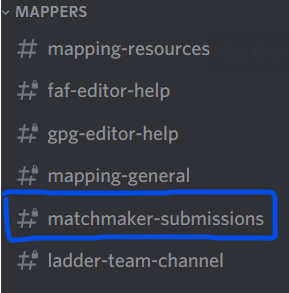 Feel free to leave comments about the current work-in-progress map list here!