Greetings.
UPDATE 21.1.2022.
New version (v162) of my map and mod is out.
DDDX_RPG_Survival is the map
Survival Mayhem&BO balance is the mod.
WARNING - NEW MOD REQUIRED, BUT ONLY AS A SOFT REQUIREMENT (needs to be downloaded on the disk by all players). Extreme wars (could not get approval from Team Asurbaelvect).
First a quick intro for those who do not know it - it's a heavily modded survival, so that it provides Total Mayhem, Blackops, and custom units in waves, minibosses (for both attackers and defenders) as well as a random end boss fight (can be 1 of 10 variants), a player 7 spot that, if chosen, is allied with the attackers and plays against the defending team, various mission goals throughout the game, and a very strong evolving upgradeable hero type role for whomever picks Player_1 as their spot in the lobby (but only player 1 can play a hero)..
The map/mod requires Total Mayhem, Blackops:Unleashed, Blackops:ACUs, and Extreme wars mods to function - it is NOT a standalone mod and cannot function without those, but relies heavily on units and models inside those mods, and serves also to promote these awesome mods (with approval of Uveso).
Extreme wars does NOT need to be enabled for the match, only downloaded onto the HDD.
Here's what that looks like: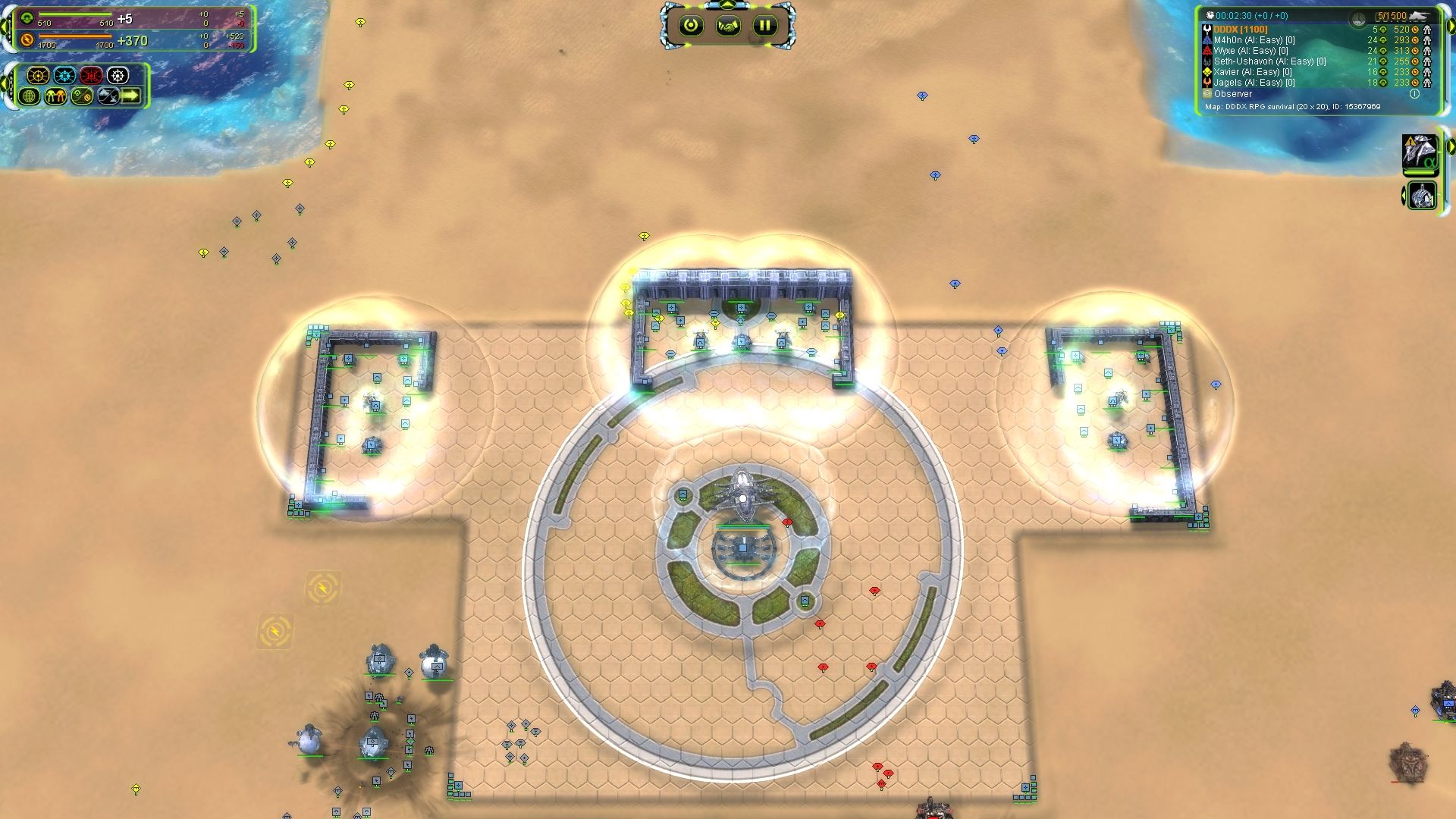 Comparison between UEF+ SERA lvl 1 and lvl 5 heroes. Tiny lvl 1's next to massive lvl 5's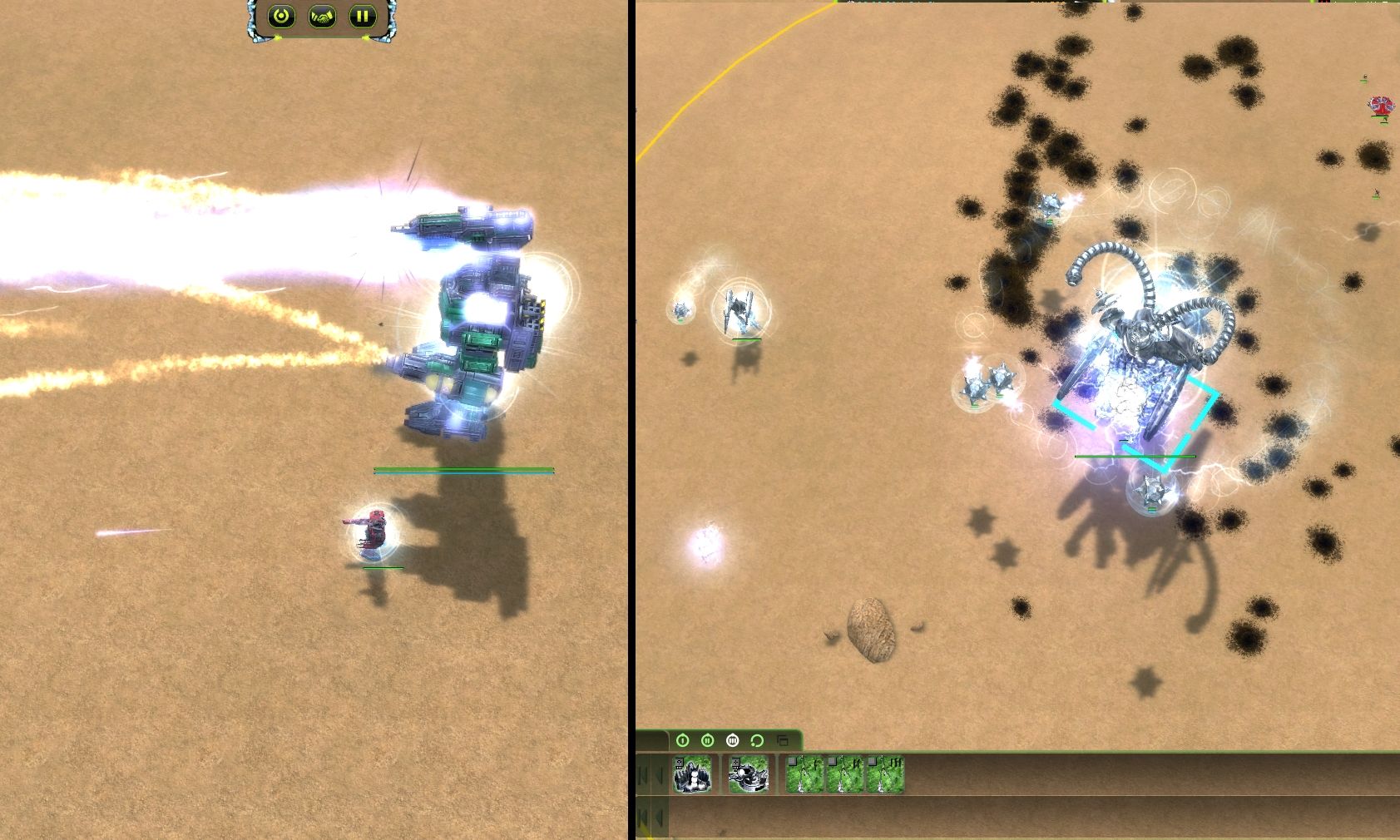 On the right side, the lvl 1 hero only has 1 Defense orb orbiting it, while a fully upgraded lvl 5 sera hero has 4 (with those upgrades, but can have more). The orbs circle constantly and partially absorbe some weapons fire on the Alpha heroes
---
Difference in upgrades for starting hero and final hero level. Here we have the weapons slots for UEF heroes, and all 3 slots for SERA heroes shown.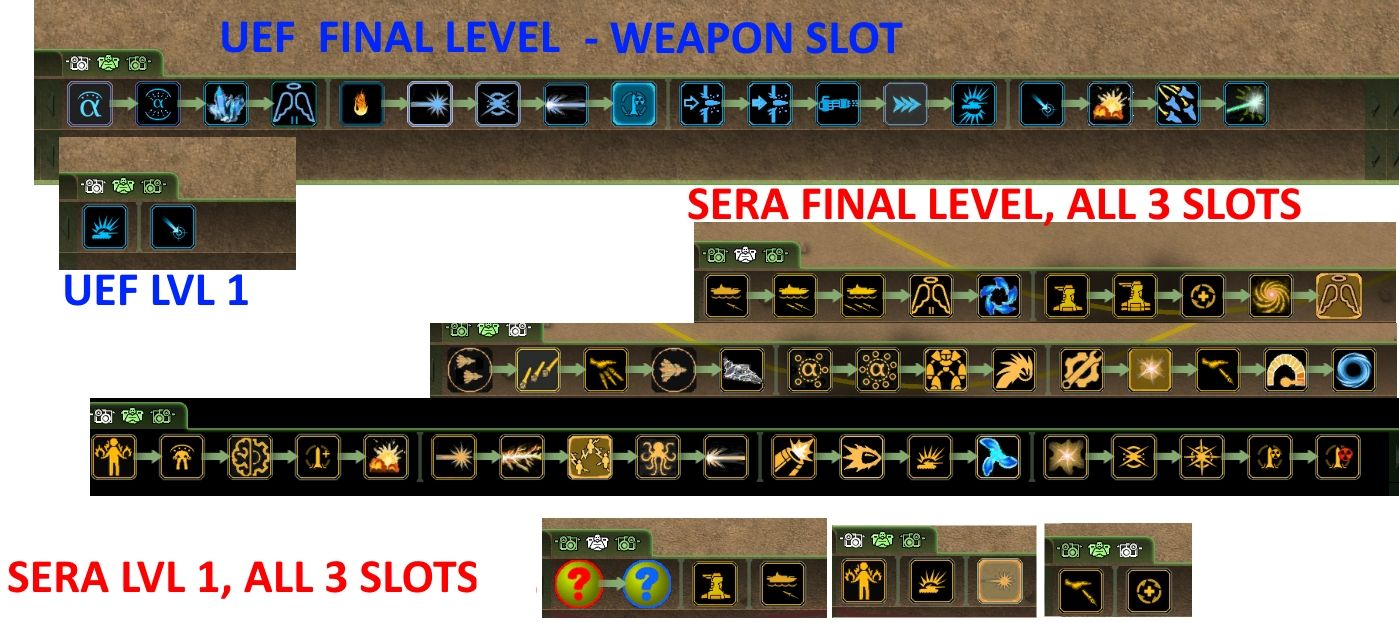 As you can see, there is quite the difference between the 5 levels.
---
Micro missions like destroying this massive anti teleport tower to activate teleporting across the map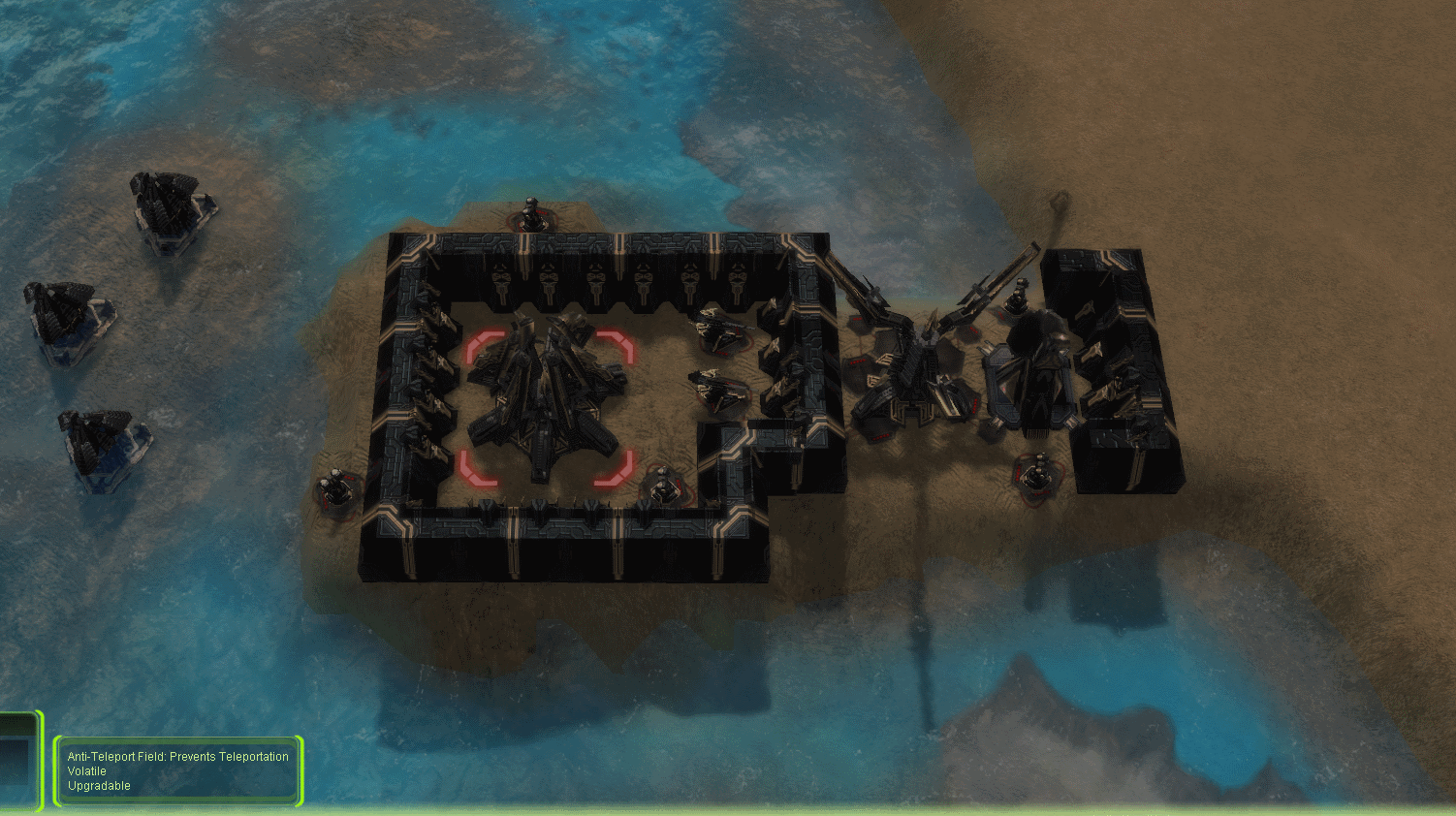 There are several missions, like land and naval gateways that spawn enemy units, or bases that host specialized teleports that teleport enemy SACUs behind your defense lines, nuke or arty bases, naval bases or air bases that need to be destroyed, and many more, picked randomly (and also based on difficulty, or selectable in map settings in the lobby).
Base area for the hero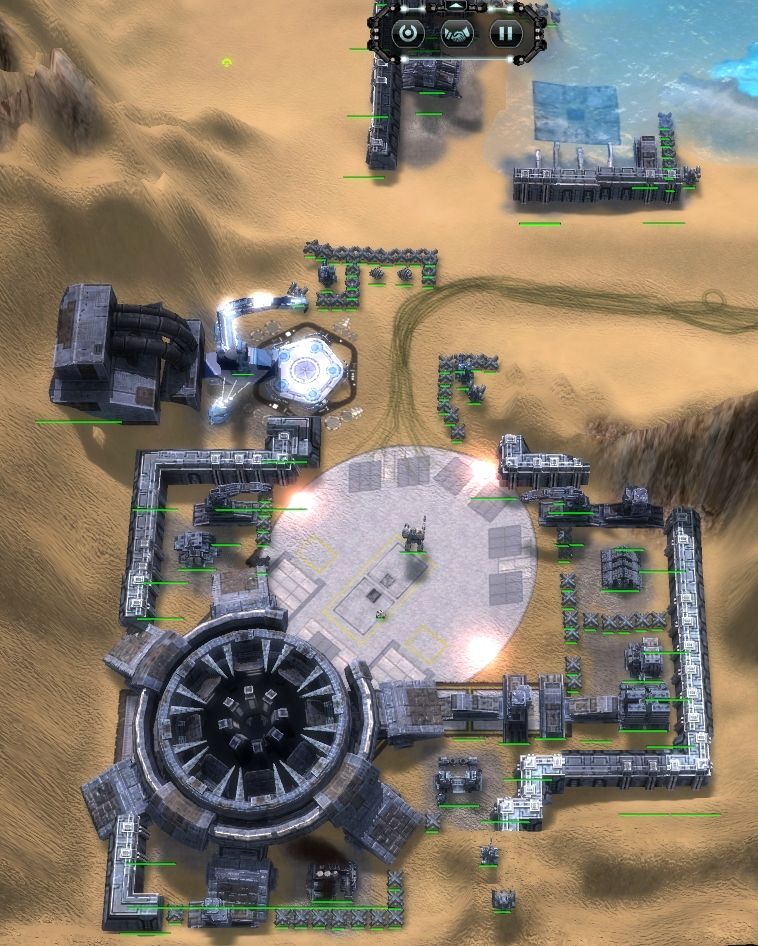 this is mostly decorative, to give our hero a starting location and a respawn point if it dies. However it does have a site-to-site teleport building, for faster traversing of terrain.
A nice view of starting defences (can be turned on/off in map settings). Also, a 3.rd value of this setting will give you periodic extra reinforcements.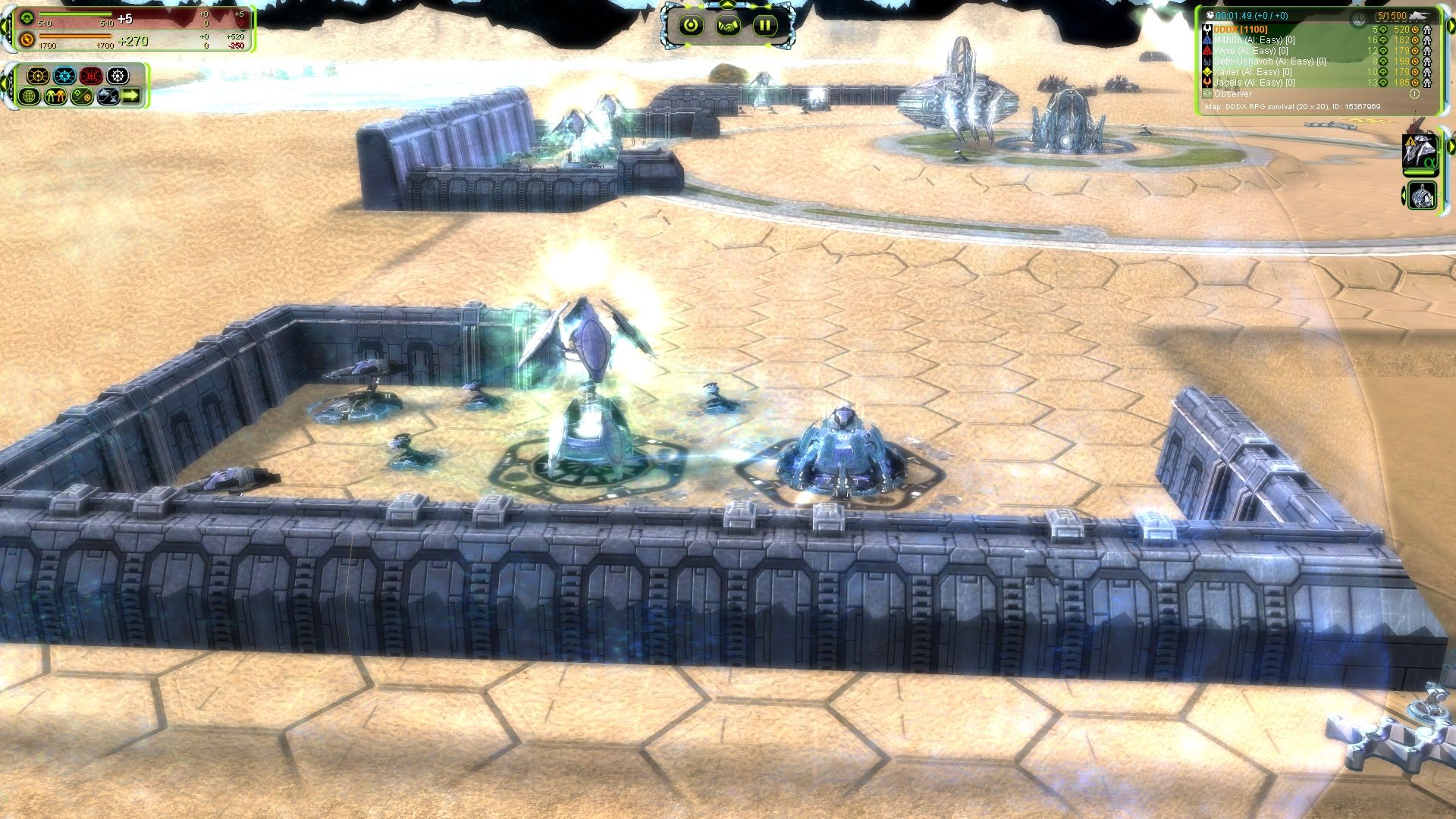 Forward outpost that gets crushed at the start of the game, mostly decoration but can be a problem if there's a player 7 and he is allowed to reclaim the wrecks early on.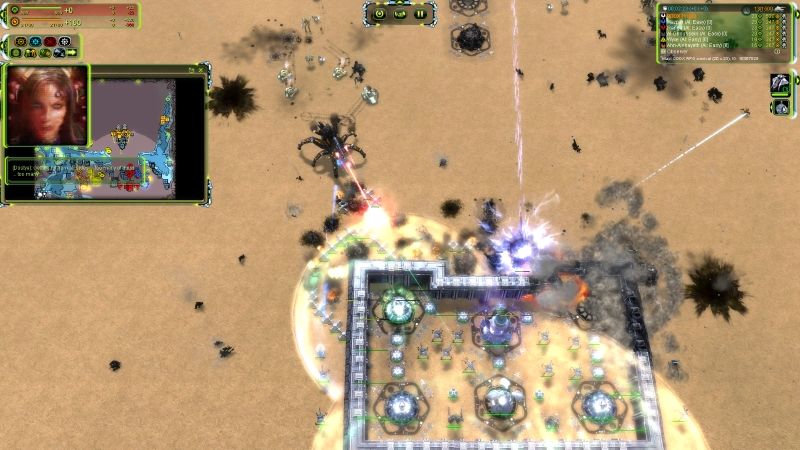 Teleport building, only works for hero units. Takes 25 seconds to charge up.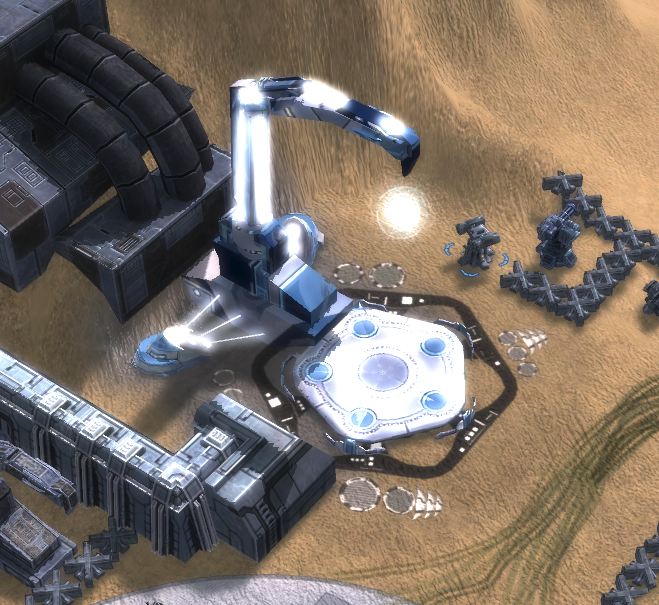 As for heroes, they come with a very buffed Overcharge, various drones (based on picked upgrades), a unique ability button (per faction, usually long cooldown), special auras that buff your team or nerf the enemy (each faction has 2, upgradeable via enhancements), buildable epic base buildings and unique experimentals (but only a very limited number), as well as an array of weapons and upgrades for you to pick (usually between a shorter range weapon, longer range and AoE/specialised).
They also have special abilities, like Aeon's Eternal life, that does not let you die for a short while after getting killed, mind controling enemies as Cybran heroes, spawning team-friendly Othuy energy beings as Sera heroes, getting extra regen while standing still as UEF heroes...and many, many more
---
---
NOW FOR CHANGES IN VERSION 162
(straight from the file Changes.txt inside the mod)
Patch 162
Map:
Added Mission icons
Fixed some missions triggering even though you've selected to have no missions
Mod:
Further optimised code to increase stability, mostly on Carriers
Reduced Carriers numbers in waves
Halved their drones, from 8 to 4, but buffed drones hp and damage to compensate
Nerfed Cybran heroes Rail gun damages by 20%
Further nerfed Aeon heroes OC damage, buffed starting AA weapons
Fixed not having Sky trackers buildable from drone enhancements for lvl 2 and 3 Aeon hero
Nerfed Aeon hero lvl 3-4-5 lasers damage, buffed lvl 2 laser dmg
Further nerfed Aeon hero Overcharges
Buffed Aeon heroes starting AA missiles
---
Patch 161
Attempted to optimise code for idle units to speed up sim.
Fixed UEF Legendary sats remaining after Legendary dies
Buffed its sats production to 60 sec from 120 sec
Buffed Zombie villages mass worth, HP
Reduced Cybran hero footprints to make them more mobile on water
Reduced teleport structure footprint to make it more accessible
Fixed dialogue not triggering with longer build time delay
Fixed starting enemy swarm spawning even when the middle base and dialogue is turned off
Further protected rear mexes from enemy arty fire
Nerfed all Aeon Alpha Overcharges and lvls 1-2-3 starting HP
Fixet multiple Balrog from UEF hero 4 and 5 exploit
Added reclaimable crystals 1000 mass worth to speed up starting eco
---
Patch 160
Yolo cost reduced to 350k from 400k, damage buffed to 250k from 200k
Buffed air staging beacons hp/shields
Buffed Horizon further -hp, range
Reduced Legendaries cost, buffed their hp/shield
Buffed AANG heavy antiair (+5000 hp, -20.000 energy build)
Fixed civilian buildings being shown at start
Slowed down teleSACU start by 2 min and their frequency of respawn by 6 seconds for diff under 34 ---
Slowed down transes respawn by 20 sec --- these 3 should make life a bit easier
Slowed down zombies start by 2 min and respawn by 20 sec ---
Buffed Palace shield +20 000 hp
Added automatic site-to-site teleport for hero
Added more starting defences for the base area - sides
Added more AA for hero base
Further nerfed Carriers +10 sec shield respawn, -10 000 shield hp
Nerfed Ashwassa miniboss speed, hp, damage per multishot.
Fixed Hero being gifted exploit.
---
PLEASE WRITE HERE ANY FEEDBACK, FOUND BUGS OR IMBALANCES of the map waves, bosses or heroes
Your feedback is much appreciated.
I will update this thread as new changes come out.