Hello everyone! Now after some time and tests, I have finished developing the new version of the client newshub! I'd appreciate some feedback before it is implemented. We are thinking (me and Rowey) about probably putting it on the next week with the new batch of news.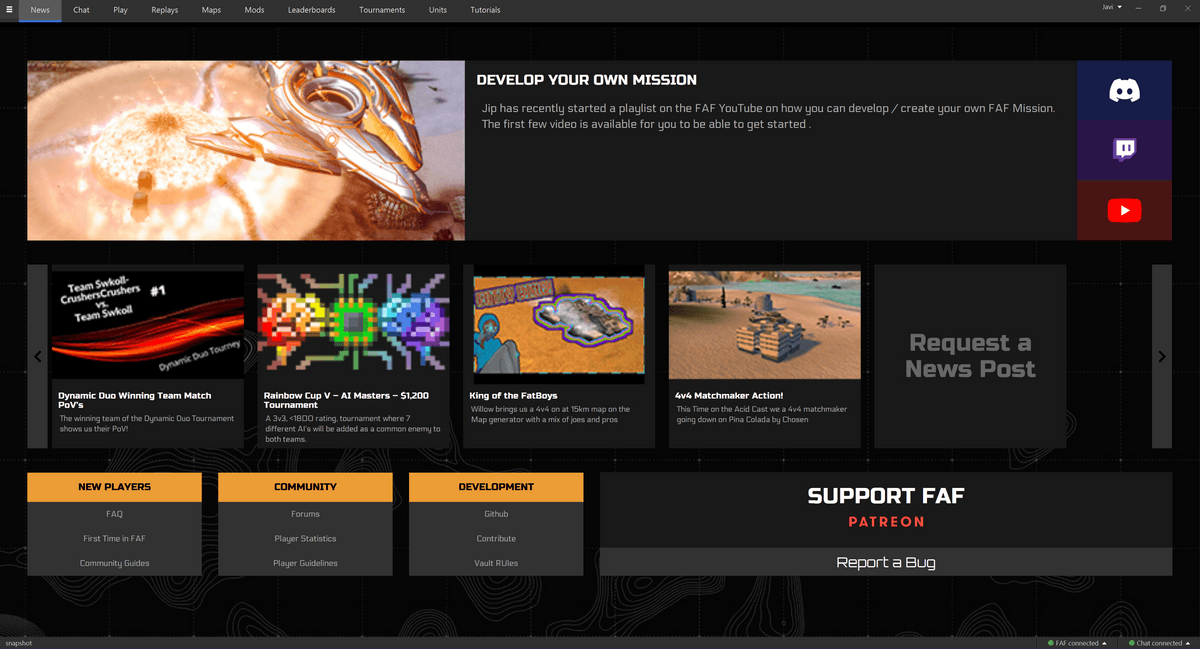 Here is also the live version on the test server https://www.test.faforever.com/newshub
Here is a list of improvements coming with the new newshub!
No more slowdowns
The previous newshub was calling the API everytime a user came (as far as I understand the outdated techniques previously used) causing users to wait about 5 seconds for the page to load (both in client and on the website).
The new client newshub caches the newshub in a json file. Meaning users dont have to wait since all the data is already loaded in the website.
Flexible Image Sizing
Now all image sizes are supported! No need to make your images 145x97 or other cumbersome sizes. Now images are automatically re-sized.

Images with a 16:9 ratio (2560x1440, 1920x1080, 1280x720 or anything "rectangular") will fit perfectly. Other non-rectangular images will still adjust correctly but might receive a cut-off.
Unlimited Articles
Since now the articles are on a "slider", we dont have a limit with how many articles we can have without sacrificing design. So 5, 7 or 12 articles will all display equally well!
Responsiveness
This design has media queries and responsive unit sizes (such as vw) to always adjust to the users preferences. Therefore, the news will display adequately whether it's on a full screen window or 1/4 of the monitor screen.
More Information Less Clutter
The new design also provides more links for the user. With buttons for discord, twitch or youtube being one click away, plus new sections with useful links for new players, community tools/spaces and devs and a Support FAF button and a report a bug button all in one compact and clean design! Now Users can have an easier time accessing FAF tools and spaces from the client News!
If you have any feedback, I'd appreciate it alot!