RE: Need UI Mod? Let me know
@Wainan said in Need UI Mod? Let me know:
I'd love a mod that makes players on a team all have similar colours if possible please. So Team one would be light blue, dark blue, light green, dark green, turquoise and team 2 would be red, dark red, pink, orange, yellow for instance.

I get so confused in team games and the built-in option turns the entire team the exact same colour which creates its own problems.

In case it's relevant I use this icon mod already so please only spend time on it if they would work together. https://wiki.faforever.com/index.php?title=Advanced_Strategic_Icons
Thank You! I Love it, The Whole reason the Rainbow Tourny exists...
is I hate seeing mixed colors like you mentioned.
My OCD with this has me even sorting colors when I play AI solo.
These are the colors for the Rainbow Tourny going on now,,
finishes on Feb 6,,
watch streams on faflive twitch and others to see your idea in action.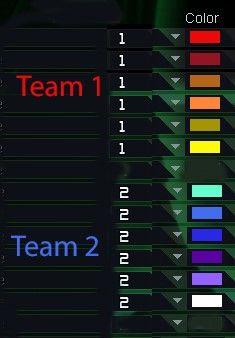 posted in Modding & Tools
•