Do something with cybran acu, its having choose gun or t2. except other factions may have two of it. Thats not cool. Also two shields' or two nano's of three factions against 1k hp stealth for acu. That difference make cyb acu fatal papper and useless after t1 stage and in that timings awesome

Loyas should have some buff,cuz-a power of titans.

Corsairs sshould have better turn rate, or at least do not missing t2 pgen or smth else. Thats stupid when 2 corsairs do not oneshoting t2 pgen cuz-a misses. Also useless at airfights and not balanced to t2 air of any of fractions.

Upgraded at least one Shield from T2~-into max, would be nice to have it at the tab as ready to place, like it with a HQ's and Support Fac's.

If u have an Atlantis, Air-crafter, Czar and able to build asfs, why the support fac's should not produce, if I can build this unit. But somehow HQ dies before.

Mantis should have a bit increased turn rate, it having huge issue with a microing and like 70% times mantis just turining and cant shot this time.

Stealth for real a useless with this balance thing's, if talk about ladder, the guy may have UEF, Aeon ACU. 10-12 shields some 5-7 t2 tanks, and in legally cybran acu with a 20 t2 and 3-4 stealth tanks will just lose this fight. Cuz-a only 1 air scout will show everything and ACU's power with OC and massive tanking hp, will just crush stronger army. Need an rebalance of stealth as balance it against shields of aeon-uef t2 stage.

And something about cerberus, t2 cybran pd. Is not so good, like a aeon with oneshot-onekill, threeade as uef also pretty same, taushala as sera also is not bad, But something would be nice to have as advice, maybe increase turn rate, so it maybe will have at least one good thing, as unstop-able damaging units, as other factions having "loading" process between shots.

Loyalist ability is at full mark are useless, for de fact. If u shot at unit and loya dies = u have damage to this unit like a 500~+ and loya will die with stun effect to this unit. Ability just saying = u can ctrl+k ur unit to stun with same timing. Its kinda useless as Say it against Shield(1.5x hp) for titans. Need rework this shit. Maybe would be cool change this useless and not effective charge into something like a T2 bomb. with a damage like its having t2 stealth bomb.

Also addition info, game is fatal going from any agressive things, expanding. Fights between units and reclaim, into sandboxing and hard ecoing. Just for a fact of team games, u may have 0 tanks, and rushing t2 mexes as a whore, and U will have ahead at all game against enemy who did 15-20 tanks and do not can push cuz'a of acu and only one pd builded. After that became t3 rush what such a crushing ur t1-t2 units, with a less for a moment economy.

Maybe we should stop looking towards the eco-sim, at least for a while, and add a pinch of extravagance and activity with the importance of map control. Or encourage gap eco-sims, sometimes a setton with 0 activity, otherwise you can lose the game in favor of activity in the game and implementation? After literally playing a bunch of setts and a couple of hundred gap games, it doesn't really matter if you win your lane, if you implement something better, and if you play any aspect of the game elegantly. It will all collapse if the little man just presses one button then another on the mex, and will be ahead of you in economics until the end of the game, if in the end you simply do not focus on the "economy" in order to simply be able to win. As a comparison of this situation, one can give an example of how Foley and Yudi play. Some people fucking rip their asses to win their lane and do it really well that you don't see players like that on a 2k+ stage in 1v1. And someone just press click then upgrade mekekes with a builing free units only t1, just for that so that the opponent wastes time on useless units until you make yourself a 3k incame. And you will not fatally bend the entire enemy team 1v4. It's really normal that the economy is so cancerous to the whole gameplay, micro moments, expansion and so on. It becomes boring, every time instead of various chips and gameplay of games, turn it into another eco-parade.

I myself had to move away from gameplay, raids, control and implementation of evil and malicious plans in favor of the economy and the choice of other factions due to the fatal debuffs of cybrans and buffs(lovely factions of balance team) of the UEF and Sera factions that are favorite for games. It is still possible to cope with completely unplayable cybrans due to the implementation of other gameplay moments. But when they turn the game into a purely "Press F for mex to win" and the same with rac-bots, it becomes more like a cushioning cushion for any gameplay when you can simply destroy all. If we talk about the situation from 1 to 1, the situation is a little different there, you simply rush the metas, and thanks to the metas, you make free a lot of what you could spend on the implementation of something in favor of additional. t2 mex, and run amok with a strong tech economy. Here the situation is more likely from the implementation of these "strong actions" the economy goes into the background, also like a depreciation cushion. And again, again, if you can't destroy those naapany t2 mexs instead of units, any of your control of the map and killing t1 engineers, mexs, knocking out expansions is already doing only to the detriment of your own economic strength. Moreover, the person who starts responding to your units after he has made this coveted mech has the opportunity to make more units and also speed up the future to improve the mex.
Do not force this text, if u have a bit different situation where mexes do not coring . I am talking about meta of 1.9k-3300, gameplay things. There are also exceptions here, in view of the commande teamgames where there may be several aggressors who realize this well in order to win. Here I am talking about meta and POWER of ECORUSH.

And why did I leave this message in this place? Yes, because something is not what you do. Realize the balance between factions already. Balance between economy and gameplay. Where if you do something it should deal damage and not just slow you down for a while. Why once again cybran debuffs and buffs of other factions. Is it not enough that cybran is played less frequently now than it was in eons of 2018. What the fuck Sparky, a commander with a T2 and a cannon is not enough for you, that you can rape anyway wiout it?. Does the airbag also needed to be, at the hard winning wi de such strong acu upgrades, because of the front attack, arty, pd creeping with combined acu+army pushes? Or thats for t"o work not only with a anel, but also with a mouth during rapes?" Increasing energy cost for air exp? - Is it worth building air, problem? Scout,Radar, ok? Or, in the end, do not put a spam moment with 100-800 asfs as a meta and "Press S to win a dogfight." We increase the hp UEF of the destroyer, we do jamming for t3 Scouts, Gunships, we make the stations cheap and effective as hives, sparkies, we make a tactical nuke PUNCH everything. Let's make the build time for the titans 2-3 seconds slower in real life so that no one thinks that the faction's overbuff is going on.

Ah, there is also a rework of the bubble shield for the coma, what? Will you make it like aeon? To make the commander generally look like BBС(or maybe as in good netorate eroges male) against Poor Cyb Stealthn 1k hp?

Tactical nuke? Thats more about challenge and fun stuff then thing about gameplay. That should have rework maybe it would be good thing if that thing to x0.5 damage of tml rocket, but with a splash as strat or a bit increased. Instead of this, kinda useless thing for the teamgames and ladder, untill cyb having lazor, and sera with a gun damage. OH that guys upper talking about radius of the tactical nuke, holy shit, u are really going to use that stuff? At the moment when you can afford it, the opponent can already fuck you with 50 corsairs or 10 strats.

In general, the mobility of the cybran faction has become somewhat unusable, playing the sea, it is difficult for you to counter t2 hovers with flaks without asking for engineers of another faction. Protect your ships in a t3 battle if you don't have an advantage initially, or fight on equal terms where the opponent has an extra. hp due to shields, and you have a fucking stealth that you can wipe your ass with, because you can put 10 t1 engineers on t1 factory on an assist and spam t1 scouts and enemy will fuck your sweet babies big daddy with a big, long, sweet chocolate with white filling big black gun-muzzle (tempest with t2 shields, reference) or even 5 inch aeon battleships, again with shields. Also, any t1-t2 hover spam is better to counter with FUCKING CRUISERS, because of the distance and normal rate of fire. Fuck, SOMEONE IS BUILDING A CRUISER NOT AGAINST THE AIR OR VISIBILITY, BUT TO FUCK T1-T2 LAND UNITS WHICH CREEP LIKE EVIL ON HALLOWEEN.

Nothing I can say about Sniper bots, they are pretty hm, good balanced? Fathers will take them (T1 bombers or mummy t2 arty's.)

NUKE and Nuke-SUBS now for real u just need a bit more time, and mass waste on pgens, thats all about new patch.

I'm waiting for a hate, and least of all I'm waiting for an explanation that the patch is really useful and balances the game, and especially makes units playable for only one faction.
Also, some points can be far-fetched here and I can be wrong about something, I understand this perfectly and agree with your views on the game. Rather, everything that has been said here has simply boiled over.
CMON DUDE Give Jamming to ASF's it would be cool when 400 asfs will fight against 300 and will miss half of hits.
OH CMON DUDE u Debuffin Cybran t3 torp, what sucks against bs's and t2 cruisers, and having only thing to do it's delay a time base crush.
-TurretYawRange: 140 > 145 At least u made something to cybran. 5 pts of turnrate, god,thanks, lets SALEM crushing games happen, thats will change much things without navy maps. Or at least at their micro when the real state of winning about combination of torps, frigs micro, its just sandbox between fights againsta two destros. But with a real thing, thats turn rate not valuabe if enemy is not 3.3k rated at all welcomes. Thats all.
KILL ME.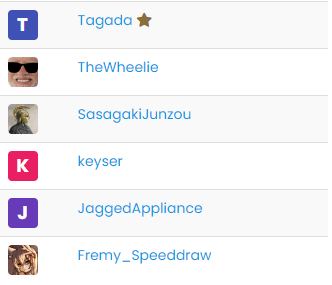 Thanks again for doing something, maybe it's better than no one doing anything. Especially for free. But is there a better way to do this?