So it seems like people lost the plot of the thread already.
Issue 1: Mod Team Bloat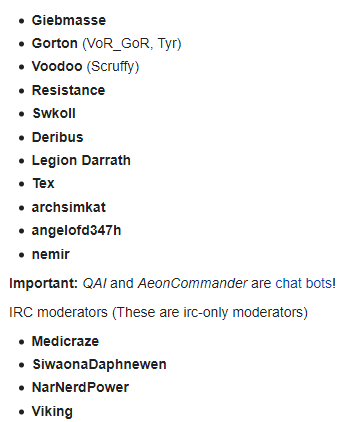 Moderators that I know do work (process reports, moderate chat, etc):
Giebmasse
Resistance
Swkoll
Deribus
Tex
Medicraze
Keep in mind this is just based on my knowledge, I would not be surprised if arch and angel also process a good bit of reports since they are pretty active I just don't really hear about it at all.
No idea why Gorton is still a mod. He comes online once a year for 5 hours. No idea why Legion is a mod, he comes online once a year for 5 hours. Haven't seen nemir in ages. Voodoo is around more than these three but I have no idea if he does a decent amount of report processing, he is still not really around in chat that often to regulate it. Also no idea why Viking is an irc mod, his last moderation activity whether banning or looking at reports was in like 2014.
But Giebmasse already has tried to fish for more people to join the team, which is good. I also think he does a good job of onboarding decent moderators that have the ability to enforce rules properly. Mostly I just wish the list was pruned of dudes that only have the role because they were involved either in GPG or zep-era FAF.
Issue 2: Reporting Processing
I don't think it "just" taking a month rather than 3 months for a report to process is some rebuttal. The issue is more about the pool of people available to take the role of moderation. So either promote Giebmasse's posts where he is looking for more moderators elsewhere or lower the quality of standard when deciding whether to onboard an applicant. Those are the only two real options to address the problem.
It's actually funny because I know people that did some bannable stuff this month and they might only finally get their punishment (if it actually got reported) around LotS which they could play in. I see that as a problem, most of the time you don't even remember the game that got you banned.
I'd also say it's probably closer to 2500 or 3000 active users per moderator.