The normal FAF player is a 300 rated AI Player that plays for approximately 3-5 hours a month. They do not care what I do here. This entire election is literally irrelevant to them. For the VAST majority of FAF nothing I do here matters whatsoever. They don't care if I host a tournament for them, because they don't read about tournaments. If they did, they wouldn't participate. They don't care about training or getting better. They are here to play against AI or with some friends whether from real life or online.
The people that DO care about the vast majority of actual PC responsibilities are competitively inclined players which coincidentally are higher rated players. And what a coincidence, the people in this thread and the people talking about things like training, tournaments, and things like TrueSkill are focused on that player element. And yes, this element is hugely important. The people that spend the hours investing to get good in this game have a high correlation with the people invested to spend the time on literally every part of FAF that isn't development (though some developers are also quite high rated). This part of my job is not only creating a stronger competitive scene but to literally keep the blood that are constant new volunteers pumping through FAF.
"But FtX what about your ladder choices?" Yeah people don't care about that either in the grand scheme of things. There is a good 7 to 8 years of data about ladder. Activity at lower levels doesn't change when we have them getting 15 maps with a 20% chance of a 20x20. It doesn't change when the pool is 5 maps. It doesn't change when it's 7 or any other number in the sky with any number of 5x5/10x10/20x20. The only time there was any general uptick in ladder participation was during the choice pool under Zep but even that was just a few percentages of more activity.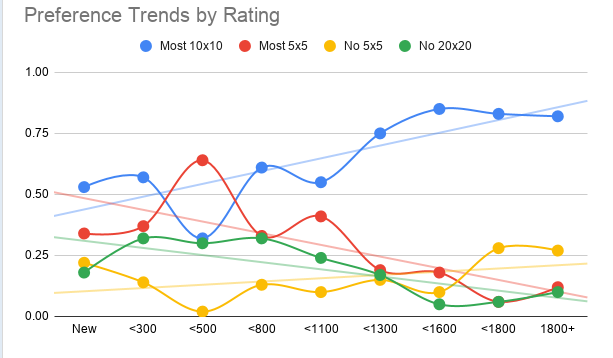 More rating = more 10x10, more 20x20, less 5x5
Follow that, and you're at the optimum. Map style hardly impacts it. Whether it's Williamson or desert arena, the 400 rated guy isn't gonna reclaim enough and will win the game when the opponent walks into 40 tanks by accident.
And before that paragraph gets misconstrued let me say that this is built on basic map principles. The lower the rating pool, the more strict the map rules must be followed. This is why experimental maps are not given to lower rated players. Likewise, neither are new maps. They strictly get the classic maps that DEFINE good map design for FA which have been played for years if not decades.
So what do I do? I address the larger playerbase through structural adjustments. These involve things like the Division system to remove the misunderstandings about TrueSkill held by players while leading to there being less general reason for trashing on players for a singular game (your high score isn't being visibly lowered anymore). Beyond that, I intend to make a global-rating based matchmaker to overcome the bump of the catch-22 faced by new players in needing experience to play games but every host kicking them. IDEALLY I'd like to work to remove steamlink and stop the absurdly horrible bleeding of players that results in.
Also, FAF does not have a retention problem. Like at all. I fail to see why this meme continues to live on. If anything FAF is an example of retentive success. Doesn't mean you can't improve the new player experience but I also recognize people getting lost searching for El Dorado when I see it.
Once again, I do not plan on changing my behavior and I don't really see any problem with how anything operates on any of the FAF communication mediums. You being a new player does not result in you getting protection from calling a spade a spade.
Don't see a point in a poll every month. If I needed to poll the playerbase for every issue there wouldn't be a point to a Player Councillor, everything would operate through referendum. You elect a person to make the right decisions for FAF. Sometimes that involves polling, sometimes it doesn't.
The solution to me needing to pick up slack from others isn't the creation of new council seats. It's making old council seats do their job or get replaced by someone that will.