I would like to start off by saying I have respect for each of the applicants as players, as individuals, and as members of the FAF community. Having serious and healthy competition for councillor positions is a good thing—elections give the incumbent councillor an additional incentive to do the best job he can do, aspiring councillors can contribute to prove their worth to the community, and the community as a whole only benefits as a result. With that in mind, I'd like point out what I think are issues with the applicants' platforms.
@Suzuji, are you aware that:
the player councillor is not the promo councillor and the player councillor role is not the one to "reach out to different media, and potentially hook them to FAF to a higher extent";
the player councillor does not have any special moderation authorities and a person does not need to be player councillor to "address forum topics accordingly, surveil FAF activities in general..." but the the player councilor does not have any special moderation authorities and cannot "...intervene if necessary";
the player councillor does not act as a CEO of FAF and cannot just unilaterally "reallocate development resources in a more necessary direction".
These are just things that are either not within the power of the player councillor, or just not related to the player councillor role, or just not possible in general.
Furthermore, are you aware that you do not need to be a player councillor to any of the following things you've listed? Training people; doing replay reviews; creating maplists; writing new matchmaking algorithms; finding replays for casters; hosting middle level tournaments; and helping TDs run tournaments. It would be more convincing to show stuff that you have previously done than give promises on what you would hypothetically do.
Finally, are you aware of the irony of saying "I will aim to combat toxicity in the FAF community. Since I see it as something that hasn't been properly addressed before", when you yourself have been banned multiple times?
As of right now, I am left wondering—how I can know that you will keep your promises, considering that your promises amount to a full time job's worth of work into FAF?
@Francias. I just don't think someone that has been permabanned should be legitimately considered for player councillor, sorry.
@Morax, it seems to me your bid for player councillor was well thought out, so I am glad you spent the time to write this up. Since, in my eyes, this is basically a contest between you and FtXCommando.
You want LotS to feature a second unrelated tournament for lower rated players. By all means, go ahead and organise this—which, by the way, you can do even if you aren't player councillor—but I just don't see the point. It's basically just a rating restricted tournament like any other. It doesn't affect the main tournament, and since the coverage of LotS doesn't even feature all the games from the main tournament, I can hardly see this changing too much from a viewer perspective.
Regarding the matchmaker, you were a part of the ladder team, and then left of your own volition. Are you trying to impose your vision of the matchmaker via an election instead of trying to collaborate with the rest of us on the ladder team?
The biggest issue I have with your application actually is with your history of withholding prize money. When Blodir and Nexus won the Shared Army Tournament 2 tourney in 2019, you withheld the prize money—that you had you had already pledged to donate. The fallout, where FtXCommando can be seen cleaning after the mess you caused, can be seen here: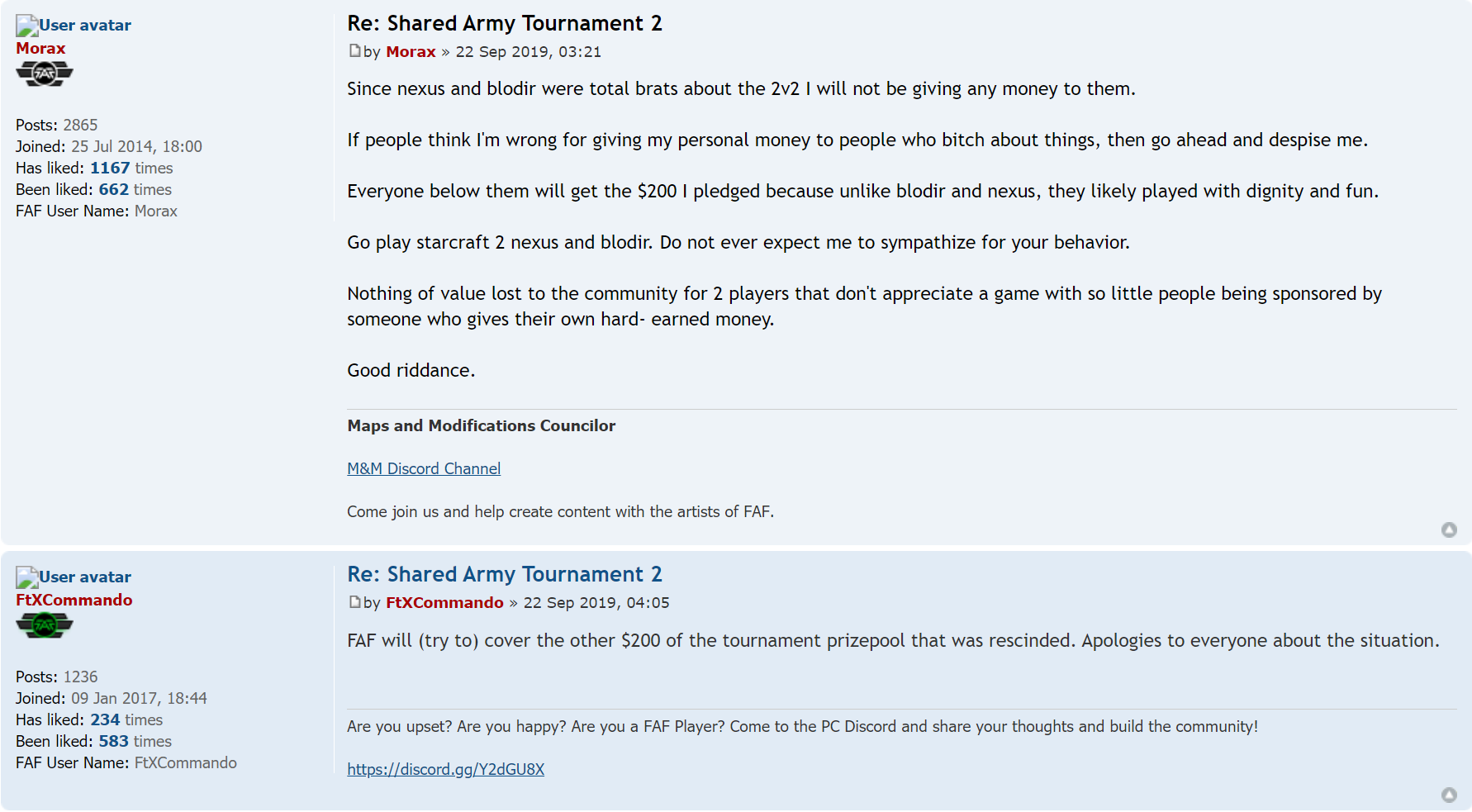 This occurred again for the Dark Heart Tourney, once again the fallout can be seen below.
Not only that, this is clearly a recurring problem that is still ongoing because you also tried to take back the money you had already committed to Swkoll weeks in advance for the Spring Invitational in 2021, after the tournament was already underway. Will people have to be afraid of what they say around you? Can the community trust you to be responsible with the funds for tournaments and show matches?
Out of all the potential player councillor bids, FtXCommando's seems the strongest to me. He has spearheaded initiatives that have been a massive net gain for the community. Ladder league. FAFLive. League invitational tourneys. They have all been successes. Top level ladder activity is way up—just watch JaggedAppliance's recent streams and see how much ladder content is available. The upcoming Division system is also promising. The key is that he has proven to able to put in the time and execute his vision. Why would I gamble on an unknown entity, when FtXCommando he has shown that he can do the job of Player Councillor, and do it well?