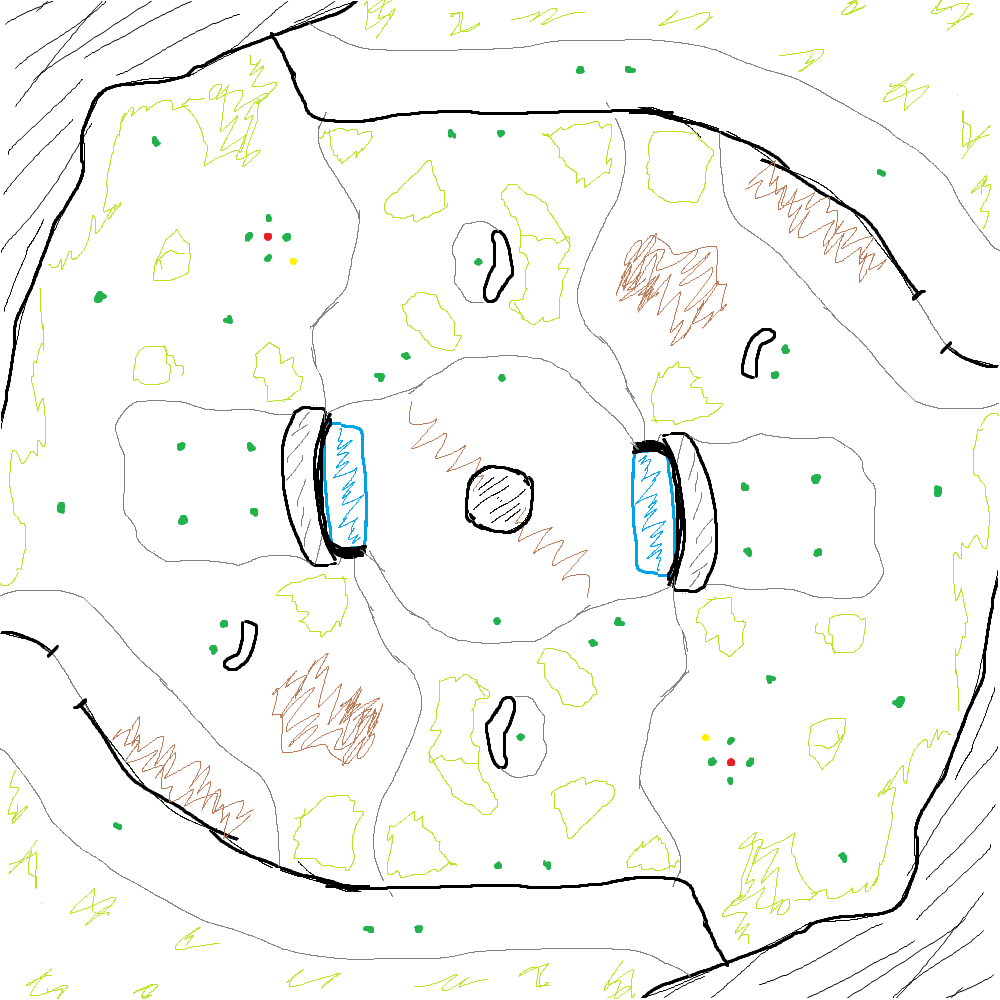 Legend:
Red: player spawn
Dark green: mex
Yellow: hydro
Bold black: unpassable cliff
Thin grey: passable cliff
Striped grey: unpassable terrain (edit: looks like i forgot to stripe a few of the smaller unpassable locations, but they should be pretty clear from the map i think)
Blue: water
Brown: rock reclaim (small 10 mass rocks, that are found on eg. Open Palms)
Light green: treegroups mixed with single trees
The bottom left and top right corners are meant to be more or less exactly like Open Palms, along with snow topped mountains and a sizable chunk of tree group reclaim (again, should be similar to the amount in Open Palms, if not exactly the same). If you don't want to do snow topped mountains, these can also be regular mountains with regular evergreen treegroups (as opposed to the snowy ones in Open Palms).
The unpassable area right in the middle of the map is meant to be the "cinematic area".
Here i've numbered the passable elevation levels of the map for clarity. -1 being the lowest (waterbody) and 5 highest (mountains):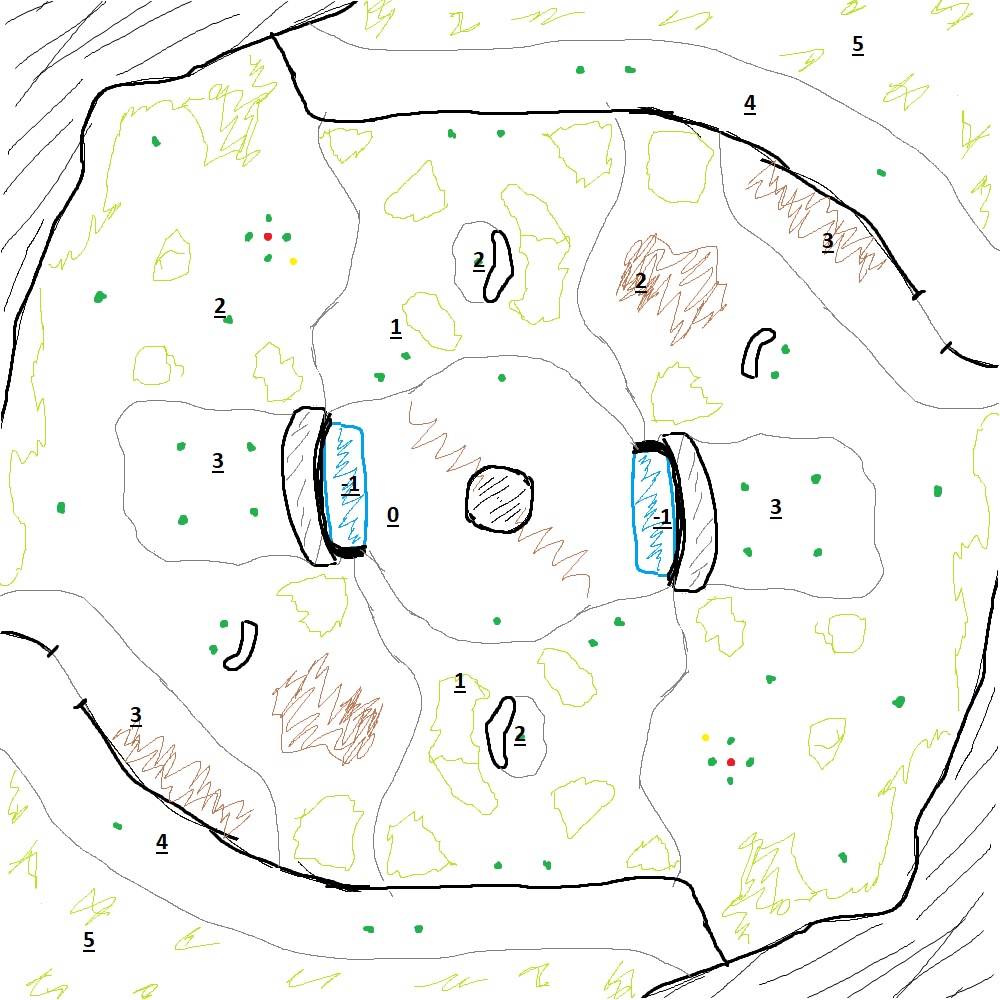 -1: water
0: rocky terrain (no grass or trees)
1+: evergreen terrain, each level should be only slightly elevated from the previous. All elevation changes need to be indicated by visible texture changes
Note about reclaim:
rocks should only be found on the areas indicated with brown. If this submission is chosen, I may elaborate more on rock placement especially in the middle. A small amount of rocks next to spawn may also be considered.
for rock reclaim the small Open Palms style rocks should be used (worth 10 mass and less). The intention here is that rock fields need to take a considerable amount of time to reclaim. Rock fields are also meant to be spread out over a fairly large area.
the tree group spots notated with light green should include a mix of single and grouped trees to reduce reclaim speed.
tree group spots are strategically placed to avoid breaking of groups with common engi paths (ie. the placement is important and should be conserved)
single trees may be used elsewhere for scenic purposes
Description
Imagined meta gameplay is as follows (bottom player's perspective):
ACU is sent early to mid for reclaim (note hydro placement on the path toward mid). The player may then choose to stay in mid (for aggressive/defensive purposes) or move to side reclaim.
Engineers make a play for the left side reclaim field
Left side is primarily an offensive front, while top side is defensive (due to how vulnerable top side mexes are in comparison, and you are getting left side reclaim anyway)
Bottom left section is taken early with either edgebuild or a transport (This is a very important expansion to defend, due to the proximity to your mexes, as well as the great rewards from holding it. Note how this section is vulnerable to raids from the opponent through a ramp on the left side. It's difficult to attack for the opponent due to long distance, but difficult to defend for you, because of the lack of a ramp on your side). A factory is built here for reclaim engineers and transports may be later used to defend this expansion.
Earlygame will be very aggressive due to spawn proximity and vulnerability of the top mexes (notice how 4 mexes on the top expansion are far apart and can't be defended by 1 t1 pd similarly to eg. Emerald Crater). T2 air aggression will also be very strong due to the amount of spread out mexes.
Also note some other interesting design decisions (that I didn't get to mention in previous sections):
small ponds are placed in the middle of the map for ACU safety
Exit from two sides of each pond are blocked, making it risky to use these ponds for aggressive purposes
A small elevation increase is placed strategically between 2 mexes and a pond in the middle. This elevation difference makes it more difficult for an ACU camping in opponent's pond to be able to get free damage.
Elevation is used strategically to create some locations more defensible for one player. There's always advantages and disadvantages in each location for each player. Eg. the elevated 4 mex expansion up north has very spread out mexes (making it vulnerable), but elevated terrain (making it easier to defend)
There are no contested mexes that tend to snowball games, players are instead given a clearly divided (between the players), but vulnerable mex layout so that harassment is encouraged over straightforward pushes.
Reclaim is placed aggressively to kickstart the war over reclaim (ie. if both players attempt to fight over a reclaim field, some units will die, then the reclaim field gets bigger, and the fight keeps going on). This is also why the reclaim fields should be large, but sparse.
I'm sure I forgot to mention lots of stuff, but have to finish at some point rather than keep rambling on forever

Thx for reading & considering my map concept